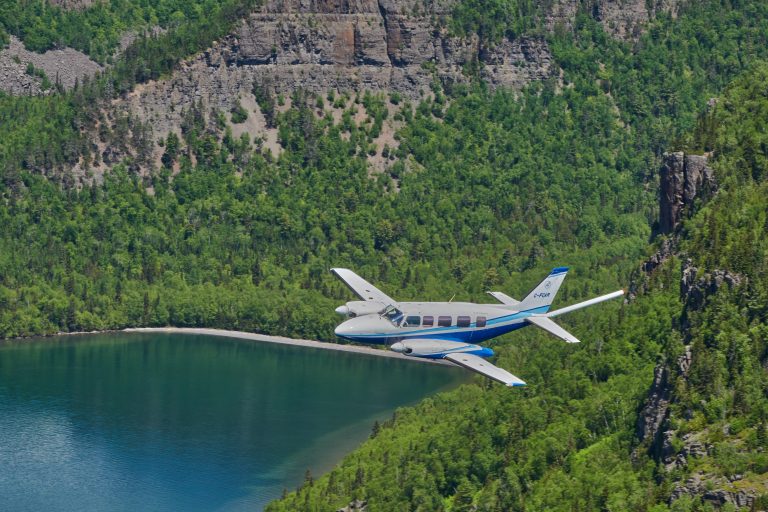 KBM Resources Group has extended its services in 2019 to become a full-service provider of fixed-wing aeromagnetic geophysical surveys.  All geophysics equipment and designated aircraft are wholly owned and operated, providing customers with the ultimate in tailored service and flexibility.  KBM strives to be the best value service provider for worldwide aeromagnetic surveying.  Services include logistics, data acquisition, data quality control, final data processing and geophysical interpretation.
With the capacity to assemble field teams consisting of geophysicists with utmost international exposure and flight crews with thousands of hours of survey time, KBM is ideally positioned in the industry to optimize the outcome of your project.
Data quality control is performed daily on-site.  Final data processing is completed in a timely manner using data processing techniques compliant with Geological Survey of Canada (NRCan) standards.
PROJECT SERVICES
BID PREPARATION
DATA ACQUISITION (PIPER NAVAJO PA31 CHIEFTAIN)
FINAL DATA PROCESSING
INTERPRETATION
BID PREPARATION
Flight Path design and Drape Surface generation optimized for local geological and cultural considerations
Calculation of total line kilometers
Logistics including

Fuel
Parking, Landing and Hangar fees
Transportation
Crew Accommodation
DATA ACQUISITION (PIPER NAVAJO PA31 CHIEFTAIN)
Mobilization
Pre-survey flight tests including:

Figure of Merit (FOM)
Heading Test
Lag Test
Radar altimeter calibration

Data Acquisition
Data Quality Control
Reporting to client
Demobilization
FINAL DATA PROCESSING
Flight Path
Differential GPS calculation
Datum and projection shifts
Magnetic Data
Diurnal correction
IGRF (International Geomagnetic Reference Field) correction
Levelling correction
Taylor correction
Micro-levelling correction
Total field, derivative and reduction to pole grid generation
INTERPRETATION
Lithostratigraphic and structural geophysical interpretation
2-Dimensional magnetic profile modelling
3-Dimensional Inversion
Euler Deconvolution
Tilt Derivatives
Depth estimation
AIRBORNE GEOPHYSICAL SURVEY AIRCRAFT
KBM's Piper Chieftain has been equipped with a Lake Central Air Services (LCAS) tail boom installation to support the magnetometer installation.  The boom is specifically designed for the Piper Navajo series (including Chieftain) and the installation is authorized by Supplemental Type Certificate (STC).
FCAR is operated with a compliment of 2 flight crew, full fuel and all necessary survey equipment for each flight.
Rabbit Mountain Geophysical Case Study
Planning
Data Acquisition
Processed Data
Planning
An ambitious project to survey Rabbit Mountain, in North-West Ontario, was designed to test out the capabilities of our pilots and our fixed wing system.
The nominal traverse and control line spacings were, respectively, 50m and 500m and the aircraft flew at a nominal terrain clearance of 60m. The vertical guidance system used a drape surface, designed with a 5% climb gradient for the Piper Navajo, PA-31 aircraft, registration C-FCAR.
Data Acquisition
Our pilots flew the stringent flight plan very well on the first pass.
The southern end of the plan was flown near perfectly and the northern end had some minor deviations that could be easily fixed with reflight passes.
Processed Data
The acquired data were corrected and analyzed.
Following industry standards, Residual Total Magnetic Field and the First Vertical Derivative of Total Magnetic Field were derived. The final derived data are to industry standard and would be ready for delivery to a client for interpretation.